Sampler - The Greatest Hits of the 50's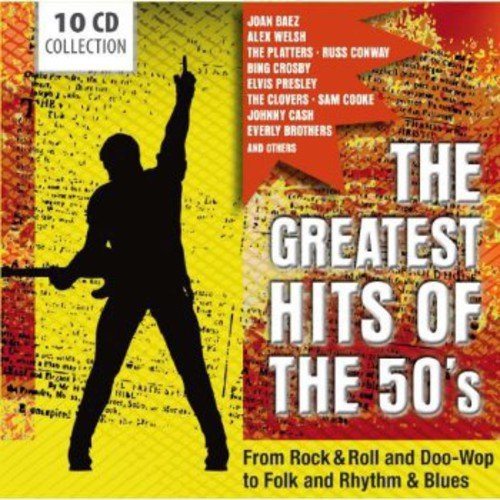 Aktuell nicht auf Lager
Dieser Artikel ist vorübergehend nicht auf Lager
bitte passen Sie ggf. auch Ihre Filter-Optionen (Preis-Filter, etc) an.
Neu! Der Silver Disc Favouritecall
Als registrierter Kunde können sie ganz einfach per E-Mail informieren lassen,
sobald Sampler - The Greatest Hits of the 50's verfügbar ist.
Hier anmelden
» zurück zur Produktübersicht
weiter Informationen zu Sampler - The Greatest Hits of the 50's
EAN: 4053796001221
Veröffentlichungsdatum: 25.10.2013
Label: Documents (Membran)
Format: Box-Set Audio CD
CD-Titel Sampler - The Greatest Hits of the 50's
Mona Lisa - Mann, Carl
Bye bye love - Everly Brothers
Diana - Anka, Paul
Hula love - Knox, Buddy
Bouna Sera - Louis, Prima
Sweet nothin's - Lee, Brenda
When - Kalin Twins, The
One night - Presley, Elvis
Plain Jane - Darin, Bobby
Everybody's somebody's fool - Francis, Connie
In the middle of an island - Bennet, Tony
The wayward wind - Grant, Gogi
Fever - Lee, Peggy
Don't let the stars get in your eyes - Como, Perry
Music, music, music - Brewer, Teresa
Marina - Granata, Rocco
Whatever will be, will be (Qué será, qué será) - Day, Doris
Milord - Piaf, Edith
Sailor - Clark, Petula
Wild one - Rydell, Bobby
Peggy Sue - Holly, Buddy
Wake up little Susie - Everly Brothers
Rock & Roll music - Berry, Chuck
Hound dog - Presley, Elvis
Blue suede shoes - Perkins, Carl
Hippy hippy shake - Romero, Chan
Great balls of fire - Lewis, Jerry Lee
Stood up - Nelson, Ricky
See you later alligator - Haley, Bill & The Comets
Tallahassee Lassie - Cannon, Freddy
Summertime blues - Cochran, Eddie
Good golly miss Molly - Little Richard
Danny boy - Twitty, Conway
Move it - Richard, Cliff
Let's have a party - Jackson, Wanda
I go ape - Sedaka, Neil
Say mama - Vincent, Gene
The big beat - Domino, Fats
Chantilly lace - Big Bopper
De de dinah - Avalon, Frankie
The battle of New Orleans - Horton, Johnny
Percolator - Randolph, Boots
Sweet sweet girl - Gibson, Don
Fraulein - Helms, Bobby
White lightnin' - Jones, George
El Paso - Robbins, Marty
Sixteen tons - Ford, Tennessee Ernie
Mexican Joe - Reeves, Jim
Ballad of a teenage queen - Cash, Johnny
One by one - Wells, Kitty / Foley, Red
Heartaches by the number - Price, Ray
That's where I want to be - Bare, Bobby
No love have I - Pierce, Webb
Anymore - Drusky, Roy
Above & beyond - Owens, Buck
I am that easy to forget - Davis, Skeeter
You got everything - Luman, Bob
Face to the wall - Young, Faron
Nothing' needs nothin' - Rainwater, Marvin
Please help me I'm falling - Locklin, Hank
Let the good times roll - Shirley & Lee
Willie & the hand jive - Otis, Johnny
Rock & cry - McPhatter, Clyde
Hey Memphis - Baker, Lavern
Hey little girl - Clark, Dee
Reet petite - Wilson, Jackie
What'd I say - Charles, Ray
You send me - Cooke, Sam
Lucky Lips - Brown, Ruth
Personality - Price, Lloyd
Rocket 88 - Brenston, Jackie
Over & over - Day, Bobby
Since I meet you baby - Hunter, Ivory Joe
Bump miss Susie - Turner, Big Joe
Shake a hand - Adams, Faye
Let the little girl dance - Bland, Billy
Do what you did - Harris, Thurston
Send me some lovin' - Little Richard
Kansas City - Harrison, Wilbert
Go to the mardi gras - Professor Longhair
A teenager in love - Dion & The Belmonts
Jo jo - Dells, The
At the hop - Danny & The Juniors
Get a job - Silhoettes, The
What do you want to make those eyes at me for - Adams, Marie
Book of love - Monotones, The
Love, love, love - Clovers, The
Alley oop - Dyna-Sores, The
Little Darlin' - Diamons, The
Church bells may ring - Willows, The
I want you - Cadets, The
Come go with me - Del-Vikings, The
Rockin' in the jungle - Eternals, The
Don't walk out - Barons, The
Daddy cool - Rays, The
Come-a, come-a - Bobbettes, The
Walking along - Solitaires, The
Peek-a-boo - Cadillacs, The
I wonder why - Dion & The Belmonts
Jennie Lee - Ward, Billy & His Dominoes
Don't - Presley, Elvis
Memories are made of this - Martin, Dean
April love - Boone, Pat
Oh my papa - Fisher, Eddie
I can't stop loving you - Gibson, Don
Young love - Hunter, Tab
High noon - Laine, Frankie
The end - Grant, Earl
True love - Crosby, Bing / Kelly, Grace
Magic moments - Como, Perry
Venus - Avalon, Frankie
My heart cries for you - Mitchell, Guy
Puppy love - Anka, Paul
Butterfly - Williams, Andy
I get a kick out of you - Sinatra, Frank
Some of these days - Darin, Bobby
It's all in the game - Nelson, Ricky
Release me - Heap, Jimmy
He'll have to go - Reeves, Jim
Too young - Cole, Nat "King"
Chi chi - Buck, John & The Blazers
Woo hoo - Rock-a-teens, The
Patricia - Prado, Perez
Sail along silv'ry moon - Vaughn, Billy & His Orchestra
Yakety sax - Randolph, Boots
Side saddle - Conway, Russ
Charmaine - Mantovani
Rebel rouser - Eddy, Duane
Chattanooga choo choo - Fields, Ernie & His Orchestra
Tea for two cha cha - Dorsey, Tommy & His Orchestra
Orange blossom special - Spotnicks, The
Sentimental journey - Conniff, Ray & His Orchestra
Teen beat - Nelson, Sandy
River kwai march - Miller, Mitch & His Orchestra
Tequila - Champs, The
Hoot mon - Lord Rockingham's XI
Dragnet - Anthony, Ray & His Orchestra
Apache - Shadows, The
Raunchy - Vaughn, Billy & His Orchestra
Red river rock - Johnny & The Hurricanes
Twilight time - Platters, The
The naughty lady of Shady Lane - Ames Brothers, The
Yakety yak - Coasters, The
To know him is to love him - Teddy Bears, The
Lollipop - Chordettes, The
The twist - Ballard, Hank & The Midnighters
Western movies - Olympics, The
Save the last dancer for me - Drifters, The
Mister Lee - Bobbettes, The
Boot 'em up - Du-Droppers, The
16 candles - Crests, The
Sorry (I ran all the way home) - Impalas, The
Love potion number nine - Clovers, The
So fine - Fiestas, The
Hucklebuck with Jimmie - Five Keys, The
Drinkin' wine spoo dee o dee - StickMcGhee & His Buddies
Buzz, buzz, buzz - Hollywood Flames, The
Maybe - Chantels, The
Tears on my pillow - Little Anthony / Imperials, The
Don't you just know it - Smith, Huey "Piano" & The Clowns
Ice cream - Barber's, Chris Jazzband
She's no trouble - Viking, Papa Bue's Jazzband
Goin' home - Colyer's, Ken Jazzmen
Fancy pants - Bilk's, Mister Acker Paramount Jazzband
The fishman - Menzies, Ian & His Clyde Valley Stompers
1919 Rag - Ball's, Kenny Jazzband
Chinatown, my Chinatown - Wallis, Bob & His Storyville Jazzmen
Brownskin mama - Barber's, Chris Jazzband
One sweet letter from you - Lightfoot's, Terry Jazzmen
Summer set - Bilk's, Mister Acker Paramount Jazzband
Sing on - Colyer's, Ken Jazzmen
Avalon - Lyttleton, Humphrey
Tiger rag - Firehouse Five Plus Two
The charleston - Welsh, Alex & His Jazzband
Royal garden blues - Laurie, Cy Jazz Band
Chasing the ace - Silk, Eric & His Southern Jazzband
Old rugged cross - Barber's, Chris Jazzband
Acker's away - Bilk's, Mister Acker Paramount Jazzband
Schlafe mein Prinzchen - Viking, Papa Bue's Jazzband
The sheik of Araby - Colyer's, Ken Jazzmen
Tom Dooley - Kingston Trio
He's got the whole world in his hands - London, Laurie
Banana boat song - Belafonte, Harry
Marianne - Gilkyson, Terry / Easy Riders, The
Greenfields - Brothers Four, The
A little bitty tear - Ives, Burl
The battle of New Orleans - Driftwood, Jimmie
Gotta travel on - Grammer, Billy
Caribbean - Torok, Mitchell
Banks of the Ohio - Baez, Joan
The wreck of the John B. - Weavers, The
Drill, ye tarriers, drill - Tarriers, The
Will the circle be unbroken - Carter Familiy, The
Who's gonna shoe your pretty little feet - Everly Brothers, The
The banana boat song - Tarriers, The
I'm too young to marry - Driftwood, Jimmie
Santiano - Brothers Four, The
The three bells - Browns, The
Honeycomb - Rodgers, Jimmie
Island in the sun - Belafonte, Harry
* Es erfolgt kein Ausweis der Umsatzsteuer, da der Umsatz der Differenzbesteuerung gem. §25a UStG unterliegt. Preise zzgl. Versandkosten