And You Will Know Us By the Trail of Dead - X: The Godless Void and Other Stories (Gatefold black LP+CD) [Vinyl LP]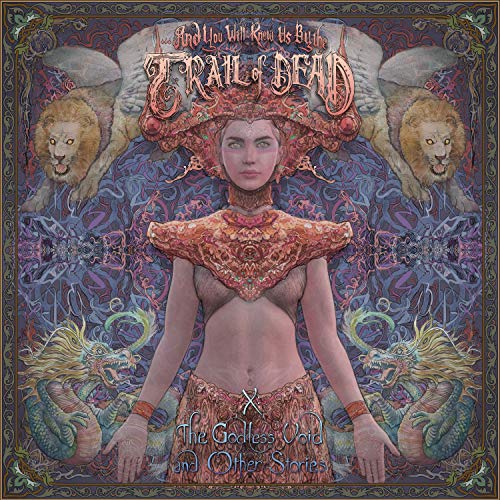 Aktuell nicht auf Lager
Dieser Artikel ist vorübergehend nicht auf Lager
bitte passen Sie ggf. auch Ihre Filter-Optionen (Preis-Filter, etc) an.
Neu! Der Silver Disc Favouritecall
Als registrierter Kunde können sie ganz einfach per E-Mail informieren lassen,
sobald And You Will Know Us By the Trail of Dead - X: The Godless Void and Other Stories (Gatefold black LP+CD) [Vinyl LP] verfügbar ist.
Hier anmelden
» zurück zur Produktübersicht
weiter Informationen zu And You Will Know Us By the Trail of Dead - X: The Godless Void and Other Stories (Gatefold black LP+CD) [Vinyl LP]
EAN: 0190759668412
Veröffentlichungsdatum: 17.01.2020
Label: Inside Outmusic (Sony Music)
Format: Vinyl
CD-Titel And You Will Know Us By the Trail of Dead - X: The Godless Void and Other Stories (Gatefold black LP+CD) [Vinyl LP]
The Opening Crescendo
All Who Wander
Something Like This
Into the Godless Void
Don't Look Down
Gone
Children of the Sky
Who Haunts the Haunter
Eyes of the Overworld
Gravity
Blade of Wind
Through the Sunlit Door
The Opening Crescendo
All Who Wander
Something Like This
Into the Godless Void
Don't Look Down
Gone
Children of the Sky
Who Haunts the Haunter
Eyes of the Overworld
Gravity
Blade of Wind
Through the Sunlit Door
* Es erfolgt kein Ausweis der Umsatzsteuer, da der Umsatz der Differenzbesteuerung gem. §25a UStG unterliegt. Preise zzgl. Versandkosten